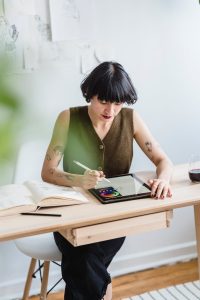 Designing is the fun and creative part of sticker making. However, it can get disappointing really quickly. While your design might look great on your computer screen, that doesn't mean it looks great on paper. So how could you avoid that?
That's by following these 4 steps I'm about to tell you. So without further ado, let's get into it!
Use Vibrant Colors
One of the problems with many inexperienced sticker makers is that they use too similar colors. And once they print it, they get disappointed as the colors seem the same. So instead of that, try to up your saturation. Make each color a bit more vibrant!
Keep Your Design Simple
Another thing that you should avoid is putting too much detail into your sticker. The problem is that when it's printed, you don't get to appreciate the little details. In fact, it will actually make it look messy. So keep your design simple, and give each element some space.
Don't Use Thin Font On Your Design
If you're creating a quote sticker, one thing you should avoid is using a thin font. That's because you'll be risking the quote not being readable. So, find a font that is bold or extra bold for clarity.
Double Check Your Grammar
And continuing with quote stickers, please make sure you double-check your quote for any grammar errors. Nobody likes to see it! And worst of all, you cannot change it once it's printed.
Conclusion
And these were the small sticker design tips. Now that your design looks great, it's time to print it. But what if you don't have a great printer? Well, in that case, you can print them on a  custom sticker app  like Stickerapp.