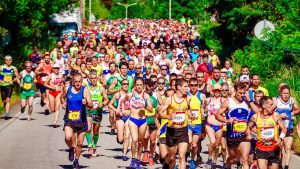 If you are a runner, then we have the ultimate event to attend in Denmark: Copenhagen Marathon 2020! The race takes place on Sunday, May 17, so save the date already now. Being roughly 6 months away, you will have enough time to practice to be able to finish the race with a good time.
Have you never tried a marathon before? No worries, you still have the time to get enough running miles in your legs to be able to do a marathon in May.
Participating in a marathon race is fun, as well as challenging of course. It alls tarts a few days before the race, when you pick up your race packet. The pick-up point is normally a big fair, where a lot of companies connected to the race and to running display their products and you can buy items as well. At the actual race, there are normally a lot of spectators along the course, cheering you on. When you finish the race, you get a medal.
To prepare properly, there are a few things apart from actually running, you need to do.
Book Your Stay
Book your stay at a hotel in Copenhagen. Make sure you get there a few days before the race, to be able to prepare for the race in a calm environment. Stay at least a night afterwards, more if you plan on doing some sight-seeing.
The Days Just Before The Race
When you are in Copenhagen, and the race is just a few days off, it is time to pick up your race pack. it normally contains gifts from the race sponsors, and can be quite valuable. You get your bib here as well, which you should mount on your shirt.
Study the race course profile to know how to plan your race. Don't worry about keeping on the course, it will be easy enough. Focus instead on where there are elevations which require extra focus and energy, and where you think it will be easier. It will be good information to have to have a hunch about what it will be like, but it is not super important. In the end it is just about putting one foot in front of the other, and keep doing it even though you are tired.