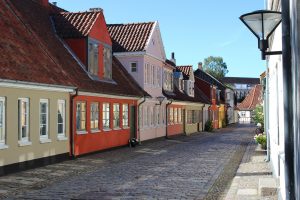 If you are planning an event in Denmark, Odense may be just the place for you. Odense is the third largest city in Denmark, and it is situated on the island Funen between Jutland and Zealand. You reach it easily via train from Copenhagen. The ride is about 75 to 90 minutes, and there are several trains an hour.
Odense is a very old town full of historic landmarks. Take a walk through the quaint streets around the cathedral and imagine what life was like in the 16th century. The cathedral itself stems from around 1080 but was re-build in the 13th century. It is built by bricks in a gothic style. The skeleton of the Danish patron saint Canud lies under the altar, on public display.
As a contrast to the very old history of Odense, you will also find an extensive shopping area where you can shop famous international brands as well as smaller local ones.
In Odense you will find numerous event locations or conference halls. It is easy to find conference sites that will hold any number of people. Naturally, there are also a large number of hotels for accommodating all event participants.
Museums in Odense
One of the most famous Danish writers, H.C. Andersen, was born in Odense. He wrote children's books such as The Ugly Duckling and The Princess and the Pea. The house where he lived between ages 2 and 14 is still standing, and it has been made into a museum. On display here are the tools his father used for shoemaking and documentation of H.C. Andersen's schooling and childhood as well as descriptions of his career as a writer.
In Odense you will also find the Danish Railway Museum. This is a true gem for anyone interested in trains and railways. It is the largest railway museum in Scandinavia, and it houses some 50 locomotives and railway carriages. Trains from all periods of the Danish railway can be found here. The museum is conveniently located in an old engine shed just next to the centrail railway station.
Local Sweets
When in Odense, you must try the local sweets. Odense Marzipan is famous all over the world, for its high quality products. Marzipan as well as various baking products are produced here. The famous soft nougat made from roasted hazelnuts is another of the delicate sweets that you should taste while in town.