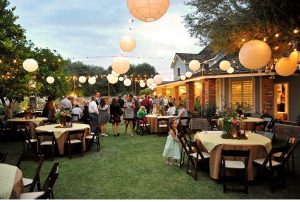 This year we will want to celebrate life and summer, and what better way than by throwing a garden party? There is nothing lovelier than spending a day in the garden with those you love and cherish. To help you plan the event, here are our best tips, used by most professional event planners. 
Don't Depend on Weather
Seeing that we live in a part of the world where the weather tends to be a bit… unreliable even in the summer, we definitely recommend you rent a party tent. It will give you shade if the sunshine is too strong, and shelter from rain should that be the case. 
Decorate Your Garden
Even though gardens are lovely as they are (in most cases, at least), decorating it will enhance the festive feeling. Order custom holographic stickers and use them for temporary decoration of the tent. 
Solar powered lamps are nice, and will create an almost magical environment when the sun sets. If you choose string lights, they will serve as a decoration during the day as well. Small lanterns for tea lights (Or LED tea lights) can be hung and placed around the garden to make it more like a room.  
Simple Food
Don't overdo the food. It should be easy to make and eat, as well as serve. A buffé style is perfect, but also requires some logistics to keep it fresh. Make sure you have enough food, because partying on an empty stomach is not fun. 
Enough Drinks
Lack of food is bad, but lack of drinks is disastrous. Buy more than you think you'll need. You don't have to have a lot of varieties, though. One kind of red wine, one white wine and a single brand of beer will cover those who drink alcohol. 
Sparkling water and a couple of different sodas will cater to those who prefer non-alcoholic alternatives. 
To keep the drinks cold, buy a few bags of ice and pour them in your bathtub along with salt and cold water. Place the bottles in the mixture and they will keep nice and cool for several