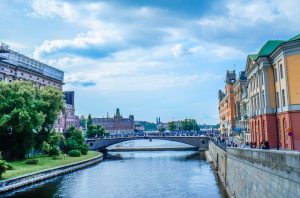 First of all, we know: Stockholm is not in Denmark. But it is located quite close by and the culture is rather alike. So if you are planning an event in Denmark, it could be worthwhile to have a look at Stockholm as an alternative.
Getting There
It is easy to reach Stockholm via air. Arlanda International Airport is located nearby and there are both trains and buses for the city leaving several times per hour. The ride will take you no more than 45 minutes, and it stops right in the heart of the Swedish capital.
Lodging
As for accommodation, you'll find plenty of options. Hotels in Stockholm are available with the city pulse right outside the entrance with loads of restaurants and shopping in all price ranges.
The different parts of Stockholm provide different environments even within walking distance from each other, so be sure to visit several parts of the city to find your favourite part.
Event Planning in Stockholm
Planning an event in Stockholm remotely is easy enough. Most Swedes speaks good English and they are well organised as well as easy to reach via email.
In and around Stockholm there are several arenas for huge events, as well as numerous smaller venues hosting any number of attendees.
If the event is more of a family thing, such as an anniversary or wedding, consider settling for a combined lodging and event arena. In that way you will ditch the need for transportation as well as get a more familiar feeling by having everyone around most of the time.