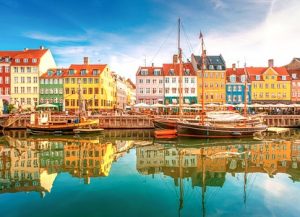 If you are thinking about planning an event in Denmark, we definitely say go for it. But if you haven't been to Denmark yet, do take a scouting trip before planning anything big. Although it is possible to do most of the planning remotely, and get local help with the physical activities it is well worthwhile to have seen the location in person.
Book an airline ticket and a room at a hotel in Copenhagen and prepare for a lovely trip that will really help you understand the perfect event location that is Denmark.
Copenhagen
The capital of Denmark is a true gem. You can get around the busy town on a bike, just like the locals do, and most attractions are close enough to make it seem like a smaller city than it actually is.
Stroll on Strøget down to Nyhavn and have a beer close to the water. Visit the Zoo and spend the evening at Tivoli where you'll enjoy the atmosphere even if you don't try all the merry-go-rounds.
Odense
90 minutes by train from Copenhagen you'll find Odense. This is the third largest city in Denmark, and the famous HC Andersen was born here. The city is located on the island Funen in the southwest of Denmark.
Among the places to visit is the HC Andersen Museum and the Odense Domkirke. In the Domkirke, Denmark's patron saint Canute is on display.
Odense is also famous for its marzipan, so make sure to get hold of some before you leave.