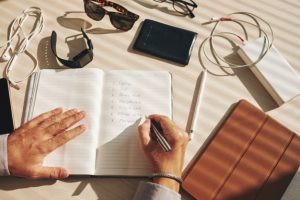 We all long for the leisure travelling to resume, and now it finally seems as we may see the light in the tunnel. But, we are not quite there yet alas. So what better than preparing your future travels by making plans and doing some research to create to-do lists for sights and activities that mustn't be missed at the various locations you want to visit?  
Make It Pretty
Make your planning into a cherished activity by getting a really nice journal, a few new pens and visit a custom stickers printing site to create your very own unique stickers. Use the stickers as decoration for your journal, or make a set to serve as highlighters.
Even if you do most of the research online, it is nice to compile the journal in a physical form. That brings a bit more weight to it and you will be more prone to actually use it for deciding where to go when, once we are allowed to travel.  
What To Put In?
Do you find it hard to start? Well, begin by noting down what time of the year you would like to visit the location, what language is spoken, how to get there, the currency and the capital. List some of the main sights, and then delve into your own interests. 
Are you looking for beaches, local food or wine or do you like architecture? Whatever your special interest is, you are sure to find a lot of interesting things to see and places to visit.