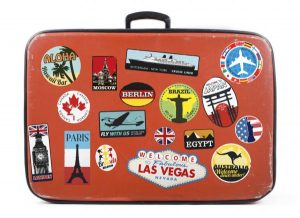 Stickers are taking more and more of a place in our daily lives. It's a great way to brighten up a boring gray wall, create innovative advertising for your business, and even draw people to some important issue, just by sticking stickers on street poles or stops.
Why would you need stickers when you travel? For example, to Denmark.
Suitcase stickers
The most obvious and most popular way is to stick stickers on your suitcase. It has a number of advantages.
Firstly, with stickers, your suitcase will be completely transformed and become unique. You do not need to put common stickers, you can order customized stickers and make your suitcase even more individual. In addition, you can easily recognize it on the luggage belt.
Secondly, the stickers will help to identify your suitcase in case it gets lost. Agree, having such a distinctive feature as a sticker will make it easier for the luggage search staff to locate it among other typical suitcases.
Thirdly, you can record the entire history of the visited countries in one suitcase! For example, stick a sticker with the picture, flag, or the name of the country you just visited. This is very interesting and entertaining, don't you agree?
Country logo stickers
Don't think that the use of travel stickers is limited to just suitcases. The extent of their use is much broader.
From every trip, we bring a souvenir as a gift for friends and colleagues – a magnet, keychain, or some other trinket. As a result, they pile up so much that they gather dust on the shelf, taking up space, and friends think of you with a bad word every time they have to brush off the dust.  
Give them a sticker. They will be as pleased as if you gave them another souvenir, but the sticker has the important advantage of not taking up space.
So if you are going to Denmark or any other country, order the stickers.