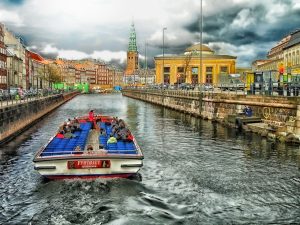 So, you have been set the task to plan a conference in Copenhagen. You find a venue, set an agenda and you're done? No, not really. Because the conference is only one part of the complete experience, and there are a few more things that are needed to change the conference into an event.
Why would you want to create an event instead of a conference, then? Well, because conferences are thirteen a dozen, while events are unique experiences that the participants will remember. If you are hosting a recurring conference, having people recommend it to their friends is important for the coming years.
Combine Conference Venue and Lodging
The perfect venue should of course meet all the basic technical requirements. But if possible, you should also aim for a venue that offers something more. By having the conference at the same location as the lodging, you are setting yourself up for a easy to run event that will most likely be a smooth sailing for you as a host and a seamless experience for those attending.
By having all conference attendees staying at the same location, there will be natural ways to interact. Going to the same breakfast room helps people feel closer and provides opportunities for small talk.
Extra Activities
If you settle for a combined conference slash lodging venue, you will eliminate some of the hassle with dinners and transportation. Instead, you can focus on finding interesting and funny excursions where dinner does not have to be included.
Copenhagen offers a lot of places well worth visiting. A boat trip around the town from Nyhavn, an evening visit to Tivoli or a visit to one of the many art museums are some ideas.
And, not to forget, In Copenhagen you could plan a visit the Carlsberg Brewery. A tour of the brewery will give you valuable insight into how the world famous beer is made.
Copenhagen Is a Food Town
While it is convenient and practical to have all meals at the same place, it is very much worth the extra effort of planning a separate dinner somewhere else. Copenhagen is full of fantastic eateries and restaurants. Any cuisine you fancy can be found here, even though you might want to try either a Nordic Cuisine or a meat restaurant.