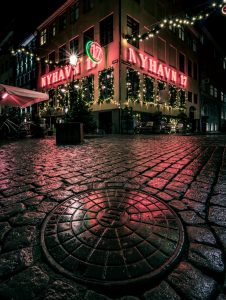 Soaking up some christmas spirit in Copenhagen might be one of the best ways of spending a weekend in December. Book a room at a 5 star hotel in Copenhagen, and visit some of the many christmas markets around the city.
We know – December is a month of a lot to-do's and a nasty stress sneaking up on us all. But we believe that a getaway from all the christmas preparations at home could boost your energy and make the rest of the preparations go smoother and be more fun. Through checking out for a weekend, you get the breather that you need to get a new perspective on what needs to be done. And who knows – you might do some christmas shopping in Copenhagen.
Nyhavn Christmas Market
Beautifully placed just at the edge of the water, Nyhavn is one of the most picturesque areas of Copenhagen. It is also the scene for one of the largest christmas markets in Copenhagen, Nyhavn Christmas Market.
Stroll around the harbour and visit the small stands displaying everything you will need for a traditional christmas. Decorations, candles, candy and homemade baked goods. Get something hot to drink, and enjoy the festive spirit.
Nyhavn christmas market is open every day from November 8 to December 23. The Carlsberg horse carriage is used on Thursdays and Saturdays, and the elfs visit the market some days, mainly Saturdays.
Julemarked Kongens Nytorv
At Kongens Nytorv, a short stone throw from Nyhavn towards the city centre, the next christmas market is situated. Kongens Nytorv is a historical site where many important events have taken place. This is reflected in the atmosphere and also in the Christmas Adventure present in the market.
Visit the small stalls to buy all kinds of Christmas decorations and lovely gifts. Naturally there are also an abundance of homemade sweets, it is soon christmas after all.
The lovely aromas of glühwein will lead and lure you through the market, so make sure to get a mug early on. As a less fragrant option, there is hot cocoa with whipped cream.