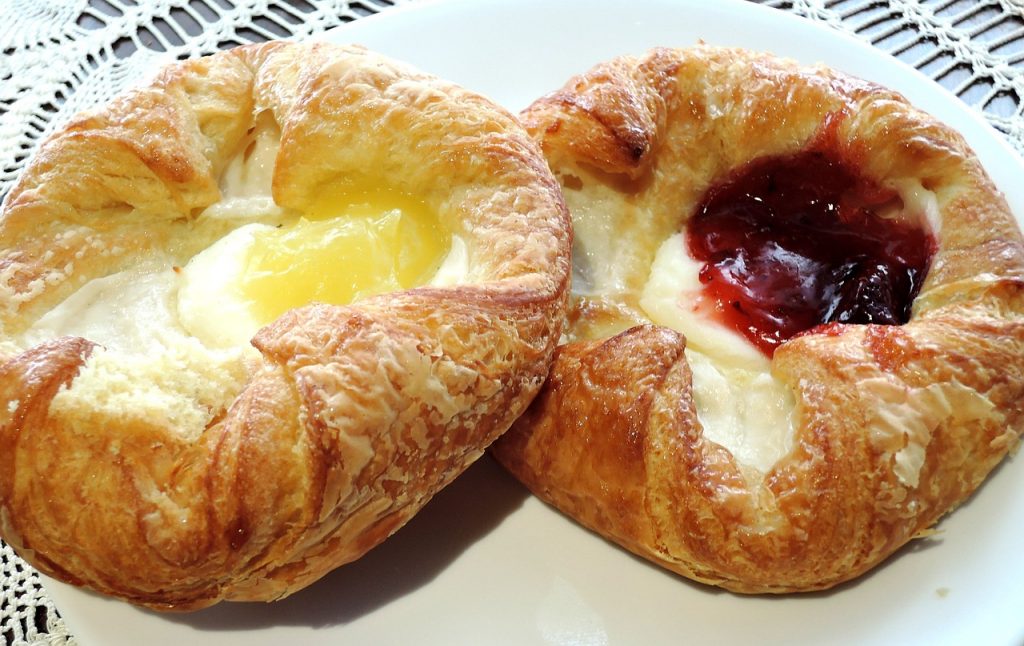 Visiting Denmark can be a great culinary experience. There are many typical foods you will be delighted when you try. Should you want something other than the typical Danish foods, there are several fine dining restaurants. Denmark has 27 restaurants with stars in the Michelin Guide, whereof one, Geranium, has three stars.
Rye Bread And Smørrebrød
The Danish rye bread is famous worldwide. It is very dark, compact and feels slightly damp to the touch. You serve it very thinly sliced, and it has a full-bodied taste of rye and a slight tanginess from the sourdough.
The rye bread is also the base for the smørrebrød, which translates to sandwich. However, smørrebrød is not your everyday sandwich. On the rye bread, several toppings are heaped. Some of the most common combinations have names of their own, like "Dyrlægens natmad" (translated: the vet's night food) containing paté, bacon, onion rings and sauce or "Sol over Gudhjem" (translated: sunshine over Gudhjem) with smoked herring, onions or chives topped with a raw egg yolk. Often the smørrebrøds are served in three's with different toppings.
Hot Dogs – Røde pølser
When in Denmark, you should not miss out on the hot dogs. The Danish version is red, and therefore called røde pølser (red hot dogs). They are served with the bun on the side, and accompanied by ketchup and mustard. Beware though, the mustard is really hot and it might bring tears to your eyes.
For a real traditional meal, the røde pølser should be accompanied by a green, i.e. a Tuborg Grøn beer.
Sweets And Desserts
Well, Danish's, that goes without saying, doesn't it? Almost, because in Denmark there is a twist – they should be topped with chocolate frosting. Flaky, buttery and falling apart as soon as you take a bite. Combined with a cup of coffee you have a lovely treat at any time of the day.
Ice cream in Denmark is usually of the dairy kind, with thick rich flavours carried by cream and eggs. The Danish speciality is to have the ice cream scooped into a cone, topped with whipped cream and a little strawberry jam. When you think you are done the piece de la resistance enters the picture – a fresh chocolate coated marshmallow treat is lightly crushed at the top.
Smakelig spis (enjoy your food)!