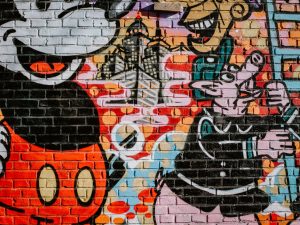 Even though it is not always the first thing people think about when talking about Copenhagen, it is the home of a large scene of contemporary art. There are numerous galleries and museum dedicated to this era, both with a national and an international focus.
We would recommend anyone who has the slightest interest in art to come visit Copenhagen and see what's on offer. Stay at a 5 star hotel in Copenhagen and you are all set for a cultural weekend. 
Arken Museum of Modern Art
The Arken Museum of Modern Art is situated a short distance outside the city centre. Its architecture is as interesting as the artworks displayed. The building is shaped like a ship, gliding out of the small island where it is standing. It fits perfectly well with the surrounding nature.
Arken hosts one of the most influential collections of contemporary and modern art in Scandinavia, and the exhibition space is large and suitable for all kinds of major displays. Among the artwork owned by Arken is one of the largest collections of Damien Hirst's works.
Among the exhibitions during early 2020 is film by Simon Fujiwara called Joanne. The film depict Joanne, Fujiwara's former second grade teacher. But Joanne is not only a teacher, but also a mother, a boxing champion, a wife, a beauty pageant winner among other things. The film aims at showing Joanne as a complex person.
Copenhagen Contemporary
Located in a former shipyard welding hall of 7000 m2, Copenhagen Contemporary has ample of space for large exhibitions and events. The museum has an international outlook and provides space for both well-known artists and up and emerging stars.
The premises are used for all kinds of culture, not only art exhibitions. Concert, creative workshops for children, art walks and art talks are among the events provided.
Among the exhibitions in early 2020 are Botanical Drift by Ebbe Stub Wittrup and Art is Life by Jacob Dahlgren.
National Gallery of Denmark
The National Gallery hosts a complete collection of art, ranging from classical to contemporary. One of the highlight is the may works from the Danish Golden Age.
At the National Gallery there are plenty of activities apart from just art exhibitions. Art workshops including Life Drawing are frequent and free for anyone to join against a small fee.
In the early part of 2020 the two temporary exhibitions at the National Gallery display works from two female painters. Anna Ancher was one of the Skagen Painters, and Ragna Braase was a painter who turned to a broader view of art and started working with all kinds of material.