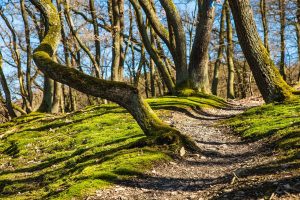 The easiest and possibly the best way of getting a feeling for the beautiful nature in Denmark is by hiking. You may be surprised to learn that there are a lot of hiking trails all over the country. They vary in both length and difficulty, so there is plenty of choices for you to find something appropriate.
Hiking is a simple and quick way of enjoying nature. All you need is a pair of comfortable shoes or boots, and you're good to go. Should you decide to take longer trips, you will of course need to update your gear, but a simple pair of shoes will take you a long way.
Planning Is a Part of the Hike
One of the funny things about hiking is that even the preparation and planning is an enjoyable activity. Looking at maps and making routes is a perfect activity for the long evenings during the darker months. Dreaming of sunny walks through the landscape can gives hope about brighter and warmer days to come.
To make good hiking plans, you will need maps and a compass. A good old analog compass is a must-have for any hiker, as you may enter into areas without proper mobile coverage. The maps will serve you both when planning and during the actual hikes.
Longer Hikes Requires More Equipment
Despite its small size, Denmark offers some longer trails as well as shorter ones that you can manage during a day. If you are set on the longer hikes, you will of course need to pack more things. Remember to put a spare set of clothes in plastic bags. That way you will always have dry clothes, even if you should have some kind of water accident.
To manage hikes stretching over several days, you need a tent, a sleeping bag and a camping stove. And of course stuff to cook on your camping stove. With proper planning, you could even make the longer hike into a gourmet one, even if you are cooking outdoors. There is no need to suffer from boring food just because you are in the wild. Perhaps you could even prioritise a bottle of wine in your backpack.