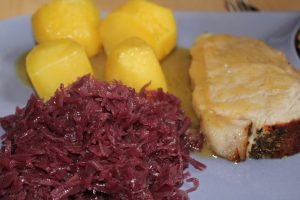 With the current restrictions on travelling, we have to find other ways of expressing our love for Denmark and the Danes than physical visits. Luckily, that is not very difficult, as there is a plethora of Danish culture around, even internationally.
Luckily enough, many of the ways you can experience a piece of the Danish culture are well fitted for your own home. Cooking is an activity that has seen a big rise in popularity over the past two months. When we are cooped up at home, we simply spend more time cooking. Perhaps that is a trend that will continue even when the restrictions on movement are eased. If so, that may actually be a good thing coming out of this, as home-cooked meals tend to be healthier than ready-made ones.
When we find ourselves spending more time in the kitchen, we may also find that we need to upgrade our equipment and kitchen utensils. Kitchentime.com offers a large assortment of everything you will need in the kitchen, readily available online.
Cook Something Danish
To enjoy a little bit of hygge in your own home, try cooking something typically Danish. When you delve into the Danish cuisine, you'll find that it is kind of similar to the British one, although with a slightly different touch.
Breaded fish, such as plaice, is a dish that you will find in many Danish restaurants. It is usually served with boiled potatoes and remoulade and topped with a lemon wedge. Lightly boiled veggies are served on the side.
For the meat-lover, a dish to try is the ribbensteg. It's a pork roast, where the meat is juicy and rind is crackling. It is best served with boiled potatoes fried in butter and sugar and a meat sauce. The condiment is normally sweet pickled red cabbage.
Drink Something Danish
Naturally, the Danish food should be paired with Danish drinks. You may know that Carlsberg is Danish, and if you are looking for a lager that does the job, it can be a good choice.
But there are plenty more Danish beers around, offering a wide range of styles for those who venture outside the lager or bitter. Mikkeller is a brand name to look out for, as is Nørrebro Brewery and To Øl.