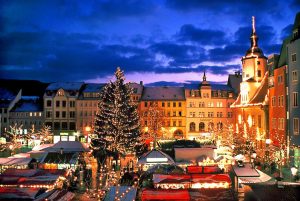 Finally! We are about to enter the best month of the otherwise long and dark winter! Advent is moving closer and closer, and soon enough the winter darkness will be gone, replaced by lots and lots of Christmas lights.
Even if the Christmas Markets are reduced in numbers and availability this year, it will still be possible to get in the festive mood. Many hotels in Copenhagen are open and naturally they are also operated in a corona safe way. 
Danish Christmas Drinks
The Christmas drink in Denmark is a variant of glühwein. Red wine, sweetened and with spices like cardamom, cinnamon and ginger added can warm any frozen soul. 
If wine is not your thing, then naturally there are plenty of "juløl", Christmas beer, to try. Any brewery worthy of its name will make a special brew, and most of the times it will be rich and dark, and with spices matching the Christmas feeling.   
Visit Tivoli
You HAVE TO visit Tivoli when in Copenhagen during December. The park will be lit by millions, or at least hundreds of thousands, lights to create an even more magical experience than at other times of year. 
There is also a huge Christmas Tree close to the main entrance. Each year it is decorated in a specific theme, and of course you can also meet Santa Claus in the park. 
Do note that this year, due to coronavirus precautions, you will have to book your Tivoli visit in advance.